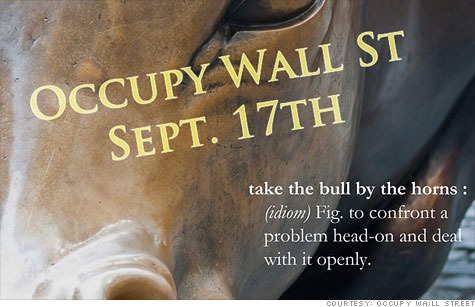 NEW YORK (CNNMoney) — Egyptians did it for democracy. So did people in Tunisia, Yemen, Bahrain and Syria. Now, activist groups are hoping Americans will launch their own uprising — in the form of thousands of protesters descending on Wall Street this weekend.

Occupy Wall Street is a "leaderless resistance movement" spearheaded by activist magazine Adbusters. Organizers want people to swarm into lower Manhattan on September 17 and set up camp for two months, then "incessantly repeat one simple demand."

Adbusters posted a call to action on its blog July 13 — originally asking for 90,000 people to join the protest — and word spread quickly around the Internet. A total of 74 cities around the world are participating in "solidarity actions," and the event's official site will stream live shots of those events.

The New York Police Department says it is prepared to deal with any situations that arise.

"The NYPD is aware of various protests and we have planned accordingly," Deputy Commissioner Paul Browne told CNN.

In a September test run of the occupation, nine people were arrested for disorderly conduct, and later released without being charged.

"It takes a lot to rise up and reform the global economic system," Lasn says. "And maybe this time we fail. But if we do, we're just setting the tone for the next revolution."